Chapel Hill UMC Vacation Bible School Summer 2018!
Quick facts

Who:      4 years old through 5th grade students
When:   June 18-22, 2018
Time:     9 AM – Noon
Where: 1550 N. Chapel Hill Drive
Wichita, Kansas 67206
Register your child(ren)

VBS 2018 will be June 18th-22nd 9:00AM-Noon, and is open to children ages 4 years through 5th grade. The theme for this year is "Rolling River Rapids: Experience the Ride of a Lifetime with God!" Please click the following link to register your child today!
Be a volunteer leader

If you would like to join our team of volunteers, we still need guides to lead groups of children from one station to another and assist them with activities. Nursery is provided for children 6 months through 3 years for volunteers' children only. Please click the link below if you can help!
Volunteer leader orientation
We are holding training sessions for volunteer leaders on Saturday, June 16 at 10 AM and 1 PM. in Fellowship Hall. If you cannot attend either session, watch the video below to learn the ropes:
In-kind Donations (SignUpGenius)
This year, we are using SignUp Genius to manage our donation needs for VBS. We will use Signup Genius to complement our traditional brown bags in Fellowship Hall. If you are able and willing to make a VBS donation, please click the SIGN UP button below!  We will be updating daily. Thank you so much for your generosity!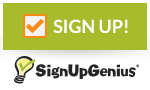 Monetary Donations
If you'd like to make a monetary gift to support Chapel Hill's Vacation Bible School, you can make a secure contribution online through the link below. Enter your donation amount under "VBS Donations" to ensure that your gift is properly directed.
Please contact Raegan Brane at rbrane@chapelhillwichita.org or (316) 684-1117 if you need more information or would like to join our Rolling River Rampage TEAM!